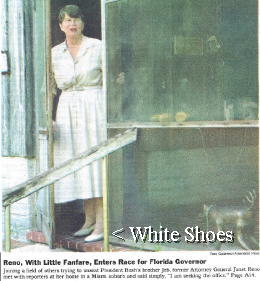 But Jan, a word to the wise--only a butch (or a very tacky straight woman) would wear white shoes after Labor Day! Watch out, hon, unless you don't MIND voters divining your true butch virility, that is!!
---
LINKS:
Official Reno Site--Hey Janet, fuck governor--how about Empress! Seriously, though, here's the spot for all your campaign update needs.

NY Times--the Old Grey Lady gets together with my Butch Grey Lady to announce her bid for Gov.!
MSNBC Article that does a good job of sorting out the challenges of the campaign and the odds of a win. I'm more optimistic, of course....
Unofficial Jan for Gov Site Dunno, this guy may be a total yahoo (I know I know, who am I to talk?), but it's as close as I have come to real info about the campaign thus far.
Campaign HQ:
Here's where to send campaign contributions. Or flowers and candy...
Janet Reno for Governor Campaign
P.O. Box 630400
Miami, FL 33163-0400
Ph. (305) 595-7284 / Fx (305) 595-7582
TO COME:
Links to any news about the campaign (or, as always, nude photos).